When avant-garde artist and writer Madeline Gins and her husband, artist and architect Arakawa, were commissioned more than three decades ago to create a residence for the art collector Angela Gallman in East Hampton, the experimental home the artists designed would've pleased one of their heroes and Greenwich Village friends, the Cubist artist Marcel Duchamp.
The Bioscleave House — a modern, 4-bedroom, 2.5-bath home that's currently listed for sale through Brown Harris Stevens for $2.495 million — has an interior and exterior that are positively riotous. It was designed to reflect Gins and Arakawa's contention that people could actually live longer if their houses challenged them physically and mentally, rather than making concessions to convenience, luxury, and advancing age. Gins and Arakawa even coined a term for the philosophy: "Reversible Destiny."
The destiny of the home itself, however, is unclear. The listing agent, Jose. B. Dos Santos of Brown Harris Stevens, says there's a strong possibility that a future buyer could tear down the Bioscleave House and build something more conventional. "I'm working really hard to find a buyer that will preserve it," Dos Santos says. "It's the only Arakawa house built outside Japan. Of course, whomever buys it will be able to do what they please. God willing, we'll find someone who will preserve it. But if there comes a time when someone wants to buy it and demolish it, there won't be much I can do."
The visual experience of Bioscleave is a lot like peering into a funhouse mirror. The 3,500-square-foot house — which actually consists of two structures, a 2,700-foot addition that Gins and Arakawa attached to an existing A-frame designed by Harvard architect Carl Koch — sits on 1.1 acres and features double-height ceilings and bumpy, undulating cement floors that look as if frisbees are buried underneath.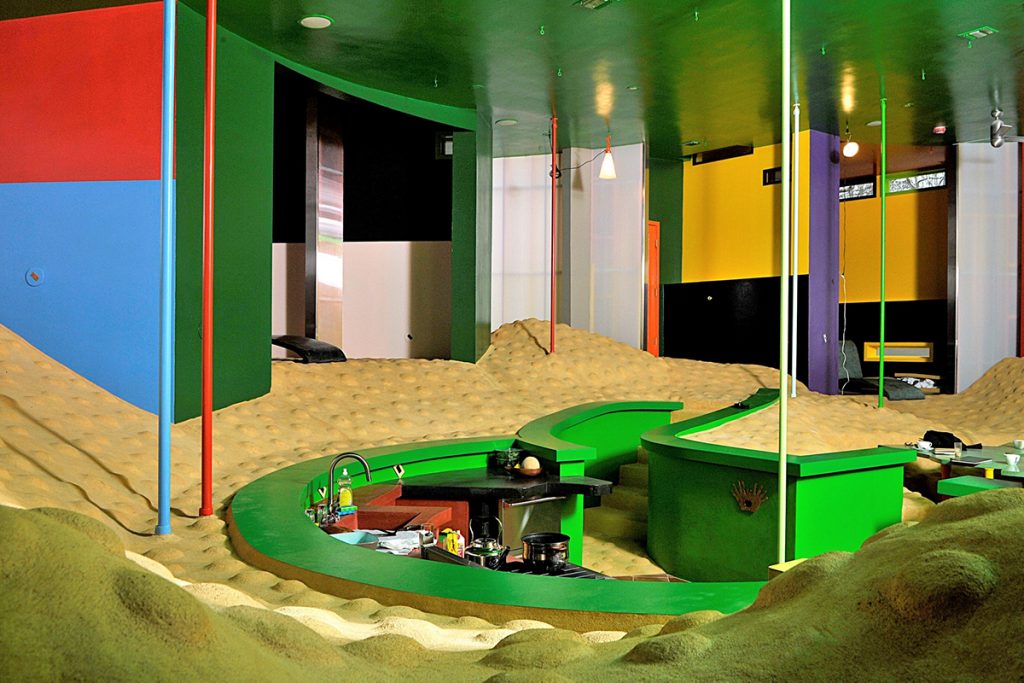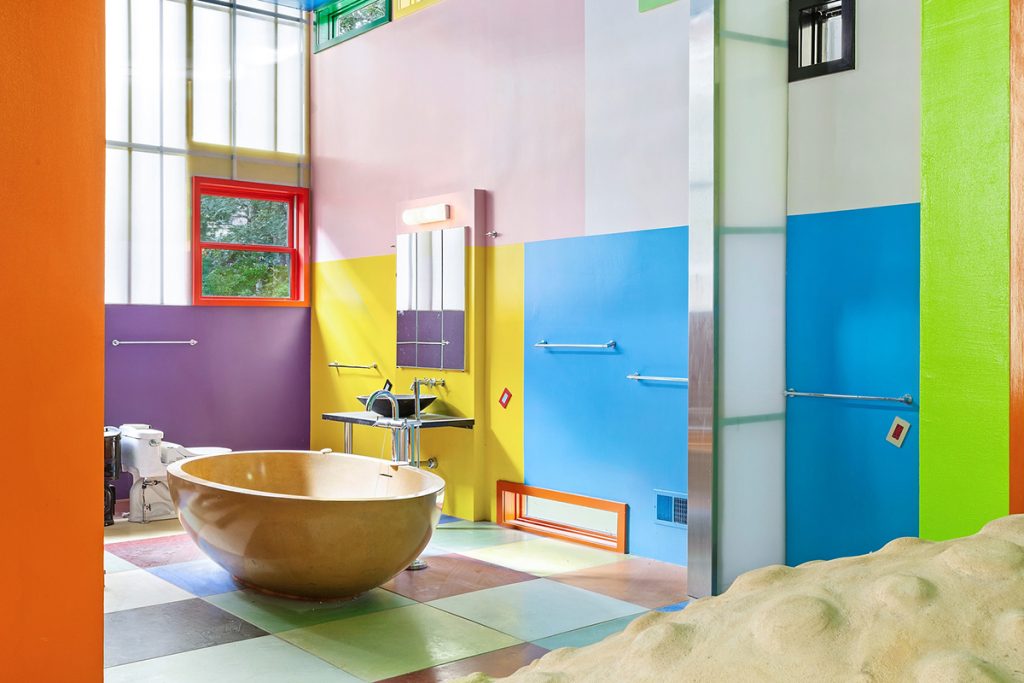 It has counters and windows of various heights and walls of Mondrian-like color blocks — 52 different colors in all. There is a sunken area that houses the small kitchen, and light switches and storage spaces located in unusual places to challenge people to live and move in the house in unexpected ways. Poles run from floor to ceiling in some rooms, to help navigate the roiling floors. People need to get down on their hands and knees in other spots to access some cubbyholes and cabinets.
Gins and Arakawa argued that living in such a house could be life-extending over time. But they both passed away by 2014 — 15 years after the house was completed, not enough time to see if they were right. Even Gallman eventually abandoned the project. A group called Professors Group LLC bought it from her in 2007.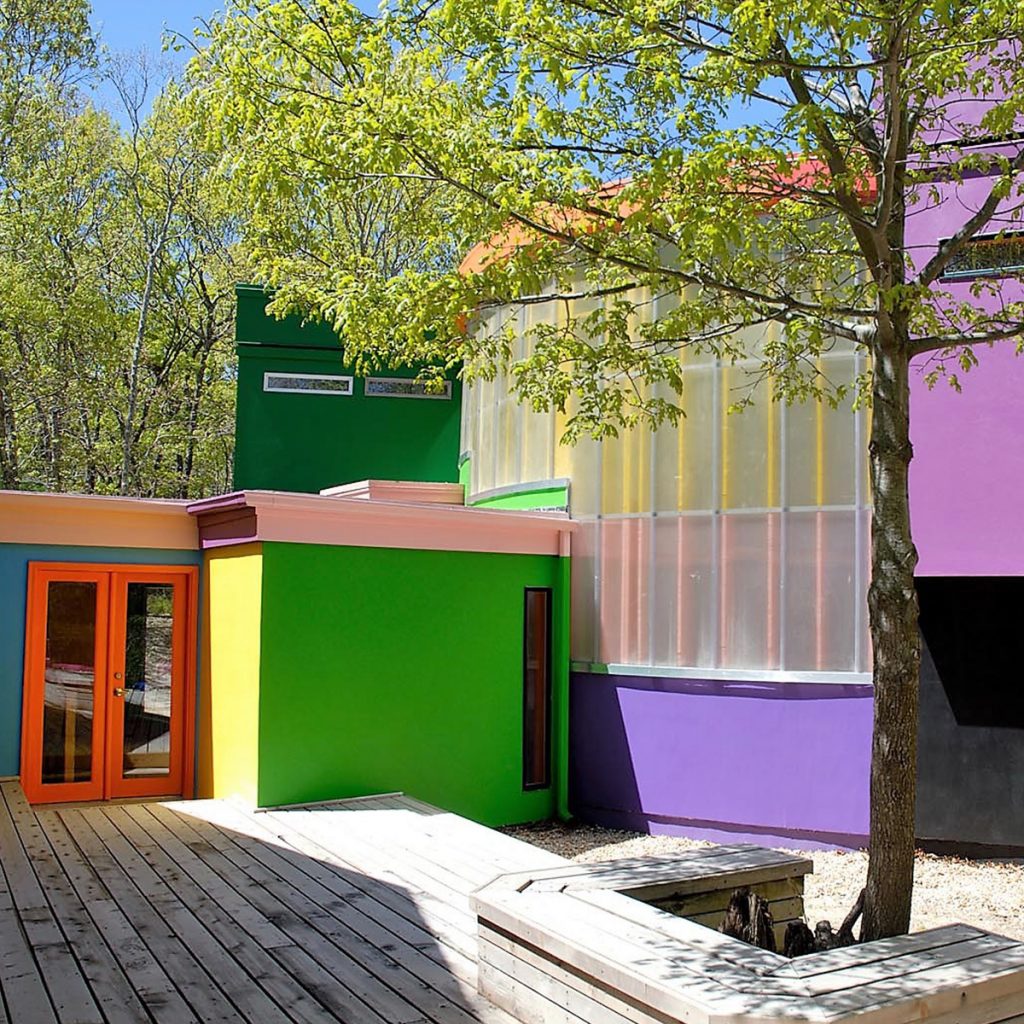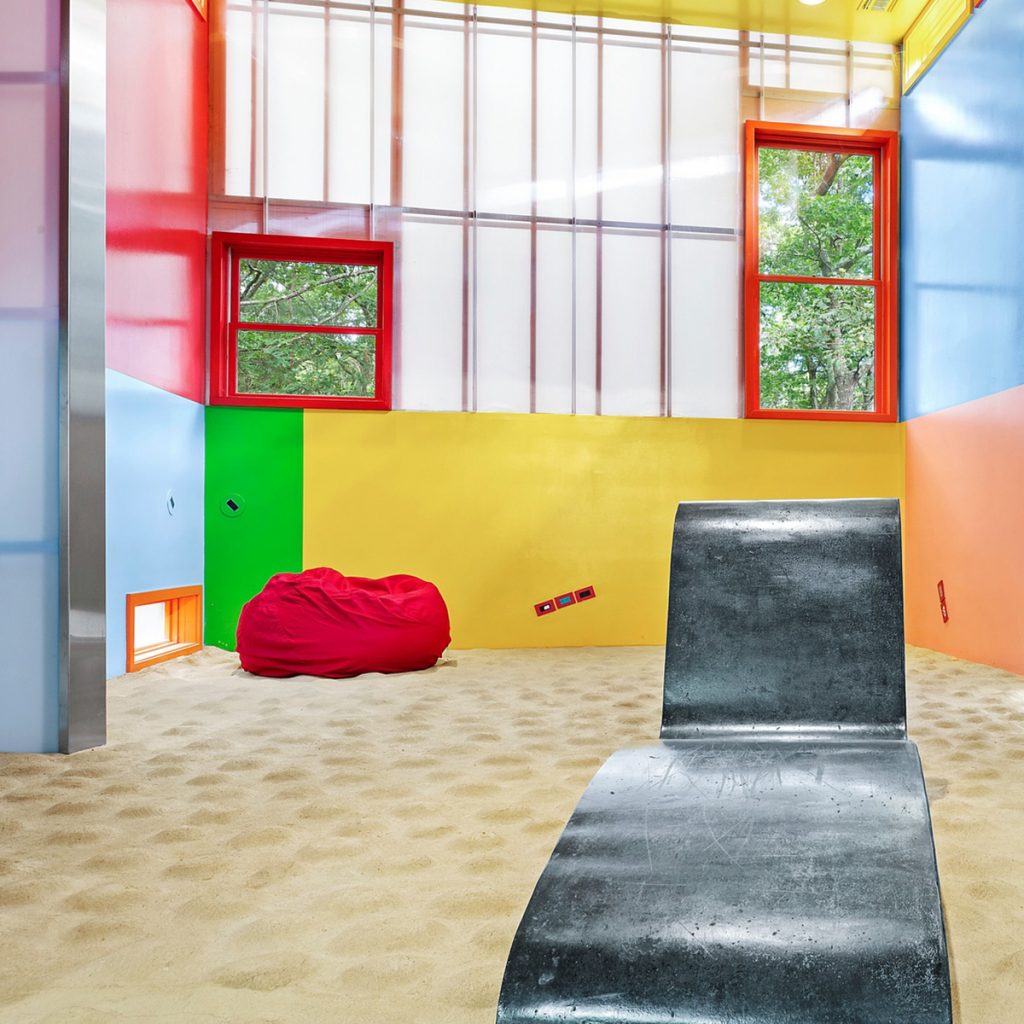 When the New York Times did a lengthy story on Gins and Arakawa in 2008, even friends and art experts couldn't totally agree on whether the artists were literally serious about some of their contentions or were speaking metaphorically. Arakawa, in particular, loved to issue proclamations.
"We should win a  Nobel Prize for this," Arakawa told the Times, referring to Bioscleave. Asked if her husband was serious, Gins replied, "Of course he is."
—
For the best of the Hamptons and North Fork, follow us on Facebook and Instagram.