There's long been a perception that the most prestigious and pricey real estate in the Hamptons is to be found east of the Shinnecock Canal. Whatever the benefits of the more westerly towns — plentiful waterfront property, an easier trip to NYC — many residents have felt that for true Hamptons cachet, one must cross the canal.
But a number of big changes coming to Hamptons Bays aim to put that perception firmly in the past.
The Town of Southampton has lately been working to draw more seasonal visitors to Hampton Bays through both major and minor revitalization projects. Earlier this month, the town moved to purchase the waterfront Bel-Aire Cove Motel property on Shinnecock Road, with plans to let a developer turn the site into condos.
Revitalizing Hampton Bays
There are many other examples: the Ponquogue Beach Pavilion is being rebuilt; upgrades are in progress at the Tiana Life Saving Station, and were recently made to the Tiana Bayside Facility; the famous Lyzon Hat Shop in the village was renovated into a museum; and a restoration of the fishing and diving piers at Ponquogue Bridge was completed last fall. These efforts are in part an effort to draw more seasonal visitors to Hampton Bays — visitors of the type who now may go by default to areas farther east.
"Hampton Bays is out of balance," Southampton Town Board member Julie Loftsad told 27 East. "We have all of these great resources … but we don't have the amount of seasonal homeowners or rooms for visitors to stay in our town and go to these great places, or go to our restaurants."
Two other major projects have really stirred the buzz about town: The restoration of the famous Canoe Place Inn on the Shinnecock Canal, and a new development of luxury townhouses going up directly east of it, on the other side of the water. Conducted in tandem, at a cost of about $110 million, and due to be completed in 2020, these projects seem likely to further shift perceptions of Hampton Bays and the waterfront areas west of the Shinnnecock.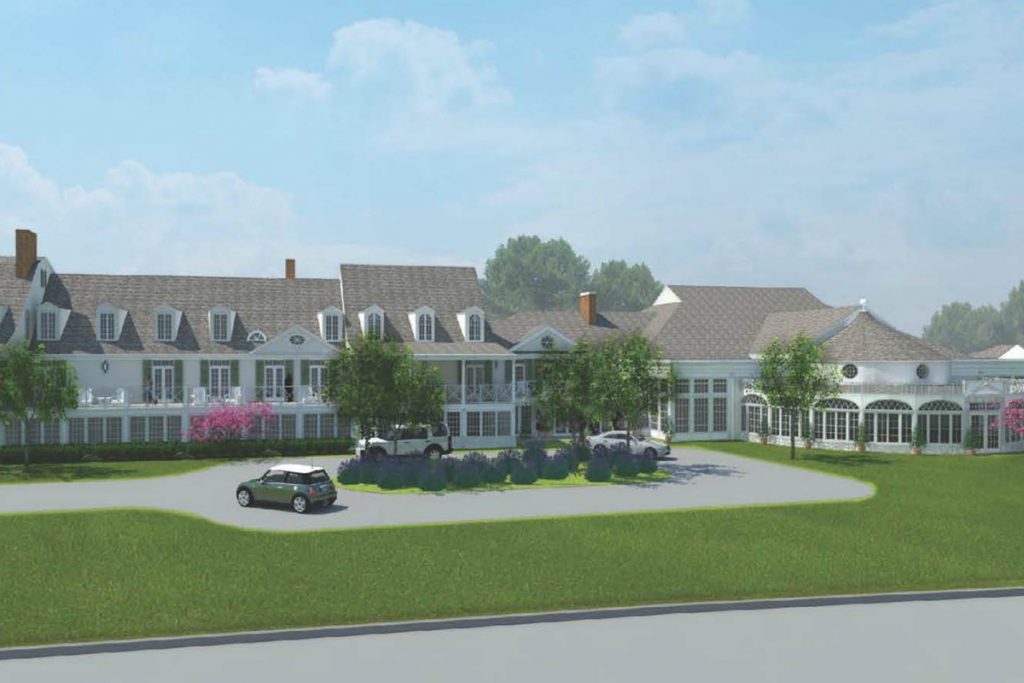 Restoring the Historic Canoe Place Inn
The restoration of the Canoe Place Inn — an iconic landmark — has been a long time coming.
Built in the 1700s, the original building was used by British soldiers during the Revolutionary War before it burned down in the 1920s. Soon after, it was rebuilt as an event venue, and quickly became the nightlife hotspot now well remembered around town. But in recent years it had sat vacant and boarded up, long enough for local flora to take up residence inside.
In 2015, a plan surfaced to tear the old Canoe Place Inn building down and replace it with condos, but many in the community opposed the loss of the historic structure. Instead, developers Gregg and Mitchell Rechler came up with a plan to transform the site into a 25-room inn, with a clubhouse and 300-seat catering hall. With a combination of history and ample facilities, the new Canoe Place Inn aspires to be like no other hotel or event space in Hampton Bays or the East End at large.
High-End Living at Hampton Boathouses
Across the canal, less than 1,000 feet from the inn, 37 luxury waterfront townhouses are rising in a project called Hampton Boathouses. Also being developed by the Rechler cousins, these attached homes will feature wide-plank white oak floors, gas fireplaces, and top-of-the-line appliances, while the community will offer a dock with private boat slips, a pool and luxurious common areas. All the buildings are being designed in the classic Hamptons shingle style.
The townhouses are officially on sale as of this month. They range in price from $1.85 million, for a 2-bed, 2.5-bath home at 1,714 square feet, up to $2.75 million, for a 3-bed, 3.5-bath unit with 2,481 square feet of space. These prices are on part with or even higher than condos in Southampton's Bishops Pond community or Southampton Pointe.
Todd Bourgard, a Douglas Elliman broker who represents the properties alongside Enzo Morabito, has lived in Hampton Bays since the '80s, and says ideas of it being less desirable than areas east of the canal are outmoded.
Changing Perceptions
"That perception just isn't there anymore," Bourgard says. "People want to live in Hampton Bays. They like the proximity to the city and everything that the town has to offer."
Nowhere on the Hampton Boathouses website does is it say that the property is actually located in Hampton Bays. The website does mention several times the homes' proximity to Southampton Village shops and restaurants, which are about 10 to 15 minutes east by car with no traffic.
Both the Canoe Place Inn and Hampton Boathouses promise to offer some of the luxuries of the eastern hamlets, but without visitors having to hit the infamous traffic jam between Southampton and Water Mill. The inn will provide a central meeting space and an event venue for Hampton Bays, while the townhouses and other projects will give the town a feeling of rebirth.
Still, there are aspects of Hampton Bays that will continue to set it apart from the ritzier realms of the Hamptons. The area has a stronger year-round population than many east-of-the-canal hamlets. Local restaurants and businesses are laid-back and casual; people even walk through downtown in their bare feet come summer. You rarely have to get dressed to the nines to go out, and you'll never have to pay more than $20 to get into a nightclub — for now, at least.
Many locals hope that even with the higher-end new attractions coming to Hampton Bays — and the increase in seasonal visitors that may come with them — the area retains its unique character.
"I have seen a change in the community since I graduated high school," says Mairead Glynn, a 24-year-old nurse from Hampton Bays living in New York City. "I feel like there's this pressure for Hampton Bays to be one of those high-end, exclusive places that it's surrounded by, but I really hope it doesn't become that."
—
Whether you prefer to be east or west of the canal, search Out East for the widest selection of rental and sale properties in the Hamptons and North Fork.