Chase Some Spirits
There are two wineries, Wölffer Estate and Channing Daughters, in the Hamptons, and dozens more to tour if you make the drive to the North Fork. All of them have tasting rooms. And if it's harder stuff you like, try the new Matchbook custom distillery near Greenport. You can "design" your own spirits using their apothecary of 200 different distillates and 300 botanicals. If you like harder stuff, you can even make your own whiskey or gin, but be forewarned: There's a 20-case minimum.
Catch Live Entertainment
East Hampton's Guild Hall and Museum, the Stephen Talkhouse in Amagansett, Sag Harbor's Bay Street Theater and the Southampton Arts Center all have world-class music and entertainment programs, and their schedules really pick up in the summer. Or take the ferry to Shelter Island, where you can hear a free, indoor student concert at the Perlman summer music camp on Friday nights.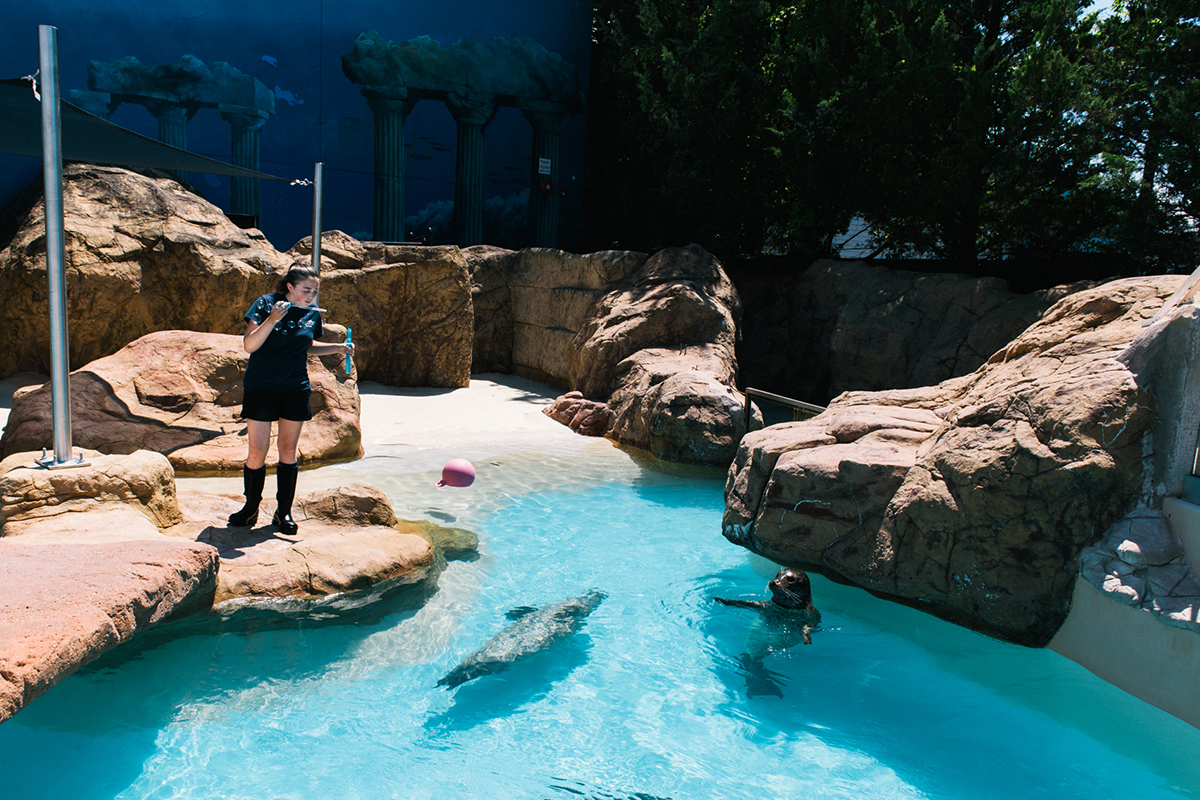 The Long Island Aquarium
You don't have to be a kid to enjoy this Riverhead spot. It has a fascinating array of interactive activities and viewing options, which include taking a selfie with a penguin or sea lion, diving in a shark tank, and walking in a butterfly or bird aviary (where the parrots aren't shy about landing on your shoulder). There's also a touch tank, and viewings of sea creatures such as alligators, a giant octopus, electric eel and much, much more. Check out its terrific website. Reservations required for some activities.
Spoil Yourself With a Spa Day
Gurney's Resort and Seawater Spa, a longtime institution in Montauk, offers day passes that give guests access to a Roman bath, Finnish rock sauna, Russian steam room and ocean-fed, indoor seawater pool with panoramic views of the Atlantic. You can also book a massage and other spa services. Or try Naturopathica in East Hampton, a full-service spa that offers massages, facials and more. Naturopathica uses and sells an array of skin products, teas, honey and holistic remedies made from natural and organic ingredients.
Visit the Museums
The stunning Parrish Art Museum in Water Mill is an expansive place that features special exhibits, a covered outdoor performance space and a robust permanent collection of 3,000-plus works. Depending on your timing, you could see pieces by luminaries such as Jackson Pollock, Lee Krasner, Willem de Koonig, Fairfield Porter, Roy Lichtenstein, William Merritt Chase, April Gornik, Cindy Sherman, Chuck Close, Esteban Vincente and others. Or, for another option, book a visit to the Pollock-Krasner House in the Springs area of East Hampton, where you can actually walk into Pollock's paint-splattered studio and Krasner's upstairs work room.
Hamptons History Lesson
The first white settlers came to the Hamptons in the 1650s, but many spots here retain their Native American names. There are numerous local churches — Whalers' Church in Sag Harbor and the Bridgehampton Presbyterian Church, to name two — with interesting architecture. Many graveyards feature tombstones of Revolutionary War and Civil War soldiers, whaling captains, founding families, and celebrities such as Alger Hiss and Jack Dempsey.
On Shelter Island, the Union Chapel in the Grove is worth a visit for its distinctive Brigham windows, which are inset with local seashells. The chapel anchors a former Methodist camp of colorful Victorian houses with gingerbread trim. Or take a tour of the nearby Sylvester Manor Educational Farm. The main house was built in 1737 and more than 200 slaves worked here at one time, processing sugar cane from Barbados. It's still a working farm with a farm stand.
—
For the best of the Hamptons and North Fork, follow us on Facebook and Instagram.