The story of how Marie Eiffel began creating her namesake stores on Shelter Island, Greenport, and Montauk, where people come for terrific food, quality clothing, and home goods — not to mention a sense of kinship — is almost too astonishing to be true.
Her entire local business empire — the Marie Eiffel Market on Ferry Road and her nearby boutique at 8 Grand St. in Shelter Island, a second boutique on 211 Front St. in Greenport, and the pop-up store she's opening at Duryea's Lobster Deck in Montauk this summer — all started with an ending, if that makes any sense.
She Loaded Up the Jeep and Headed for the Hamptons
By the late 1990s, after moving from her native Paris to New York City, Eiffel had established herself as a successful adviser to businesses and entrepreneurs. "I was living the high life, I was that kind of girl," she says, laughing at herself. But with her 40th birthday approaching in 2002, Eiffel says she wanted to rethink her life. So she quit her job, packed everything she owned that could fit into her Jeep, then took off for a place she'd rented for the summer in the Hamptons.
She was only about an hour into her journey on the Long Island Expressway when, for mechanical reasons still unknown, her car went violently careening off the highway and barrel-rolled to a stop.
The police arrived first. Then a helicopter was quickly summoned. She was taken to Stony Brook Hospital, where she flatlined and was left for dead a little over an hour after arrival. But of course, she learned all of this only later. She says all she remembers is waking up lying on a gurney, with a priest standing over her, administering last rites. She couldn't speak because her lungs had collapsed — but then they somehow just re-started. When the quietly sobbing friend whom police summoned by trying the last number Eiffel called on her cellphone looked over and saw that Eiffel had opened her eyes, Eiffel says, "She fainted. On the spot."
Eiffel's 'Rebirth' Started With a Neglected Store
Eiffel's life began again, "But the world had changed — I had changed." She spent the next 20 months in hospitals. Doctors nearly had to amputate her left arm. During the first four years, she endured 13 surgeries and had to work hard to regain her stamina, her personal compass, her mental acuity. She says during the time she convalesced she couldn't work and lost everything — everything except the kindness of friends.
Her long road back included working for $100 a week plus meals as a restaurant hostess in Bridgehampton and renting a small, $200-a-month unheated garage apartment in Noyack behind Cromer's Market. For two years, she stayed there during the warm months, then stayed with friends for two or three months in the winter, "fighting my own private war." This is how, as she was walking on Shelter Island one day, she came across a very small, neglected-looking store and was struck by a vision of herself inside, working there.
"I called the owner and I said, 'Is this place for rent?' She said, 'No' and I said, 'When is it going to be?'" Eiffel recalls with a laugh. "Again she said, 'It's not.' But three months later she calls me back and says, 'OK. What are you, a witch? It's available.'"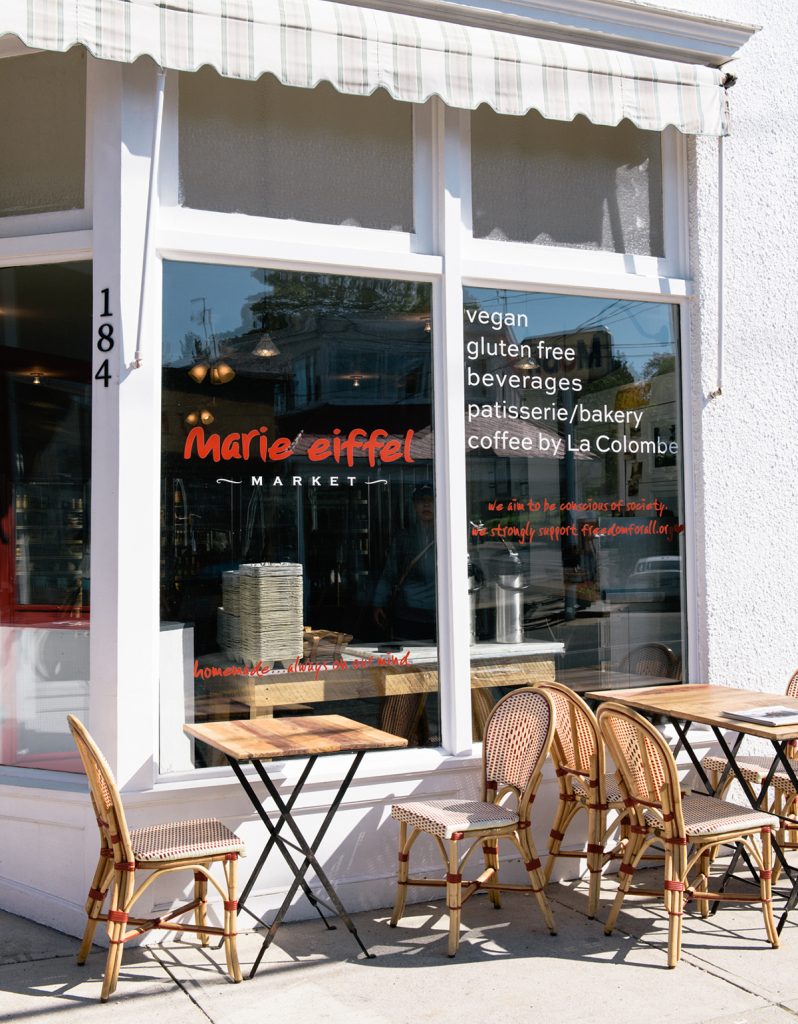 Eiffel opened a consignment shop at this location on Ferry Street, but later moved the shop to a more prominent location in Shelter Island Heights. "And the rest is history," Eiffel says.
Two Ingredients for Success: Quality and Simplicity
When Eiffel took over Reddings Market at 184 North Ferry Road — now the Marie Eiffel Market — she and her partner Jason Penney turned it into a French-inspired gathering spot offering fresh-made sandwiches, meals, exquisite rotisserie chickens, pastries, gourmet groceries, and beverages, as well as a bar serving coffee, espresso, and ice cream. People who want to linger awhile can sit at several long communal tables indoors or the outdoor seating at both the front and back of the store. The market also does plenty of takeout orders and local catering.
Eiffel says her approach is deceptively simple: "First comes quality. I'm very keen on quality. There are too many places where I go and look at clothing or a restaurant or cafes or store — whatever — and they sell everything for a very high price and it's like, 'Really? Did you taste what you just give to me? Did they think a lot about making this dress before they made it?' I think it comes from a place where people want to be significant, and so they create something with so much this or that and forget the simple things. The basics. But I believe if it's pretty, it's good, it doesn't have to be super extravagant in any way to make it interesting. So, I try to bring this."
Her Market Has Become a Community Hub
Eiffel says it's rewarding how her various businesses have evolved into places where customers don't feel like a number. On Shelter Island, her food market, especially, is a hub of local social life.
"It's very funny because my customers will often go to one of my other stores, then come to the market to show me what they bought — it's quite sweet," Eiffel says.
"I like the fact they think they're like my sister or best girlfriend. I like that they come to the market and feel at home. And you know, they ask me things they'd never ask in a regular store: 'Marie, do you have a stamp?' Yes, I do. 'Where can I find a plumber? Do you have a good electrician?' I sometimes laugh to myself and say, 'What's going on here?' but it's so nice. I guess they feel comfortable enough to ask. They feel I'm their next-door neighbor or friend. It's like a community."
Recognition From the Homeland
One of the customers Eiffel befriended in recent years was Gérard Araud, the French ambassador to the United States, who was vacationing on Shelter Island in 2016. Eiffel didn't know Araud's title until two years later, when a letter arrived out of the blue telling her she'd been awarded the Ordre National du Mérite (National Order of Merit) — the second-highest civilian honor a French citizen can receive. Araud was so struck by her personal journey that he nominated her for the award, which is given to French citizens whose public service or civilian achievement reflects the French civic spirit and contributes to the renown of France.
"I said, 'Are you kidding me?' but Araud — he is abrupt — he said, 'You deserve it. And that's it,' " Eiffel says. "Later, my brother told me, 'A friend of mine has been dreaming about this his whole life. You don't even know it exists. And you get it.' "
Eiffel laughs yet again. Funny how many good things happen if you're determined to stick around.
"One of my friends recently said, 'Marie, you are the hardest working woman I've ever seen' and I said, "But I'm 30 years behind — I only started 10 years ago!' " Eiffel says. "Sometimes we take waking up in the morning for granted. I don't. My life and values — everything — changed when I died."
—
Inspired to find your next home on the East End? Search Out East for rental and sale properties in the Hamptons and North Fork.