The Hamptons offers a long list of towns, villages and hamlets for your summer getaway. Besides comparing their different characters and features, one way to pick a place to stay is to learn what other summer renters are seeking. We analyzed Out East user search data for the summer 2019 rental season to see which Hamptons areas have seen a bump in demand since last year. And with a quarter of all summer rental inventory typically snatched up by April, if you've been eyeing a home in a popular spot, now is the time to act. Read on for the most popular Hamptons summer rental destinations of 2019, and search for your summer rental on Out East.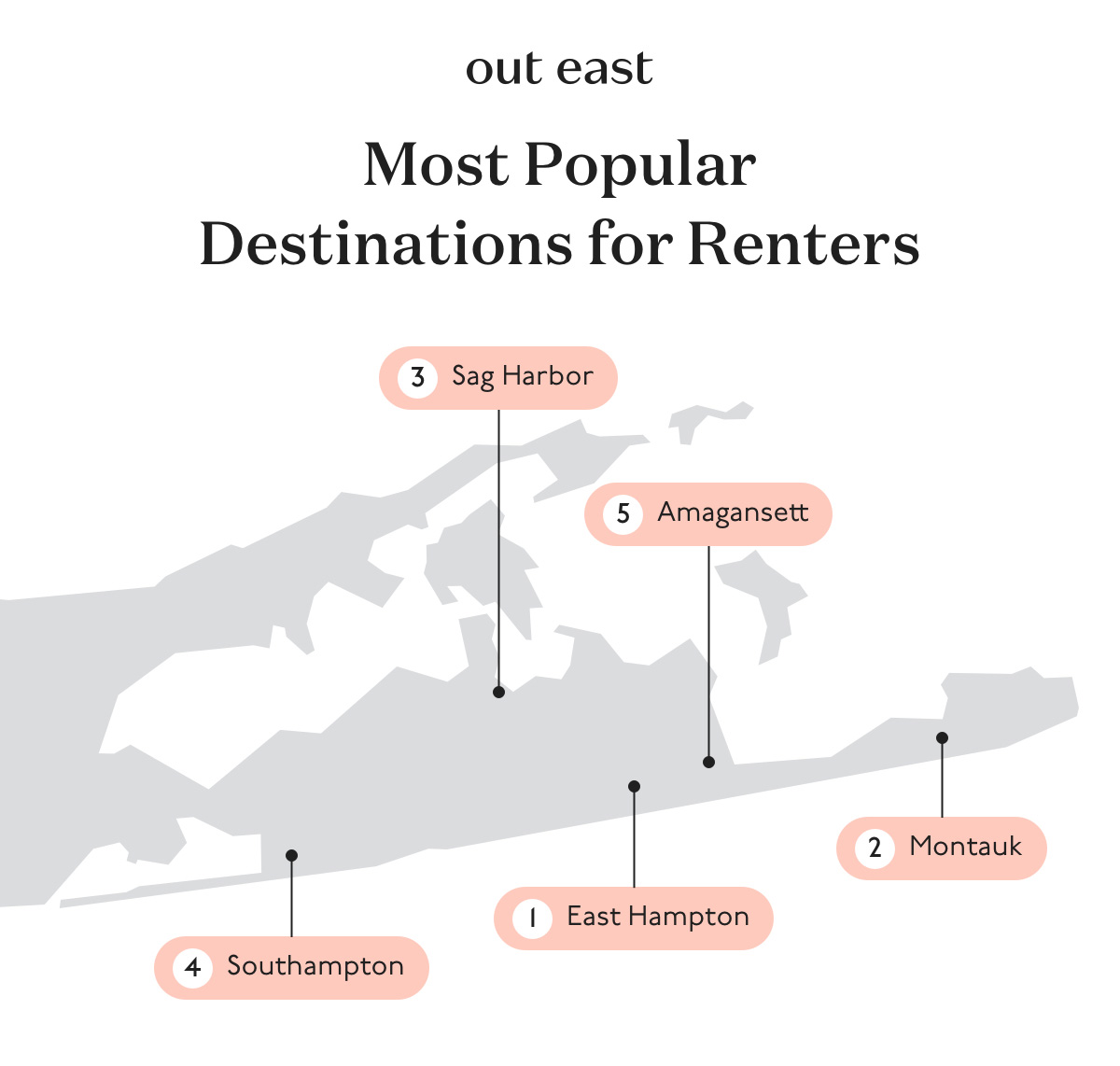 East Hampton Remains Number One
Of all searches on Out East that specify a certain area, more than 1 in 10 include East Hampton. One of two proper towns in the Hamptons (the other is Southampton), and a large area with lots of rental inventory, it makes sense that many people search here. There's just something about this centrally located community that makes it a special place to spend those coveted summer weekends. Sandy stretches like East Hampton Main Beach, and all the fabulous shopping and restaurants in East Hampton Village, make the place quintessential — exactly what people see in their mind when they think about the Hamptons.
Currently, there are more than 1,500 rentals to choose from in East Hampton for a full-summer stay, with a median asking price of $65,000 — some $10,000 below the Hamptons-wide full-summer median of $75,000.
While East Hampton has remained number one in terms of search volume, the chart below makes clear that its share of searches has dropped significantly (from 18.7 percent to 12.7 percent) over the past year. The gap between East Hampton and Montauk is closing, and prospective renters are discovering new areas to spend their summer.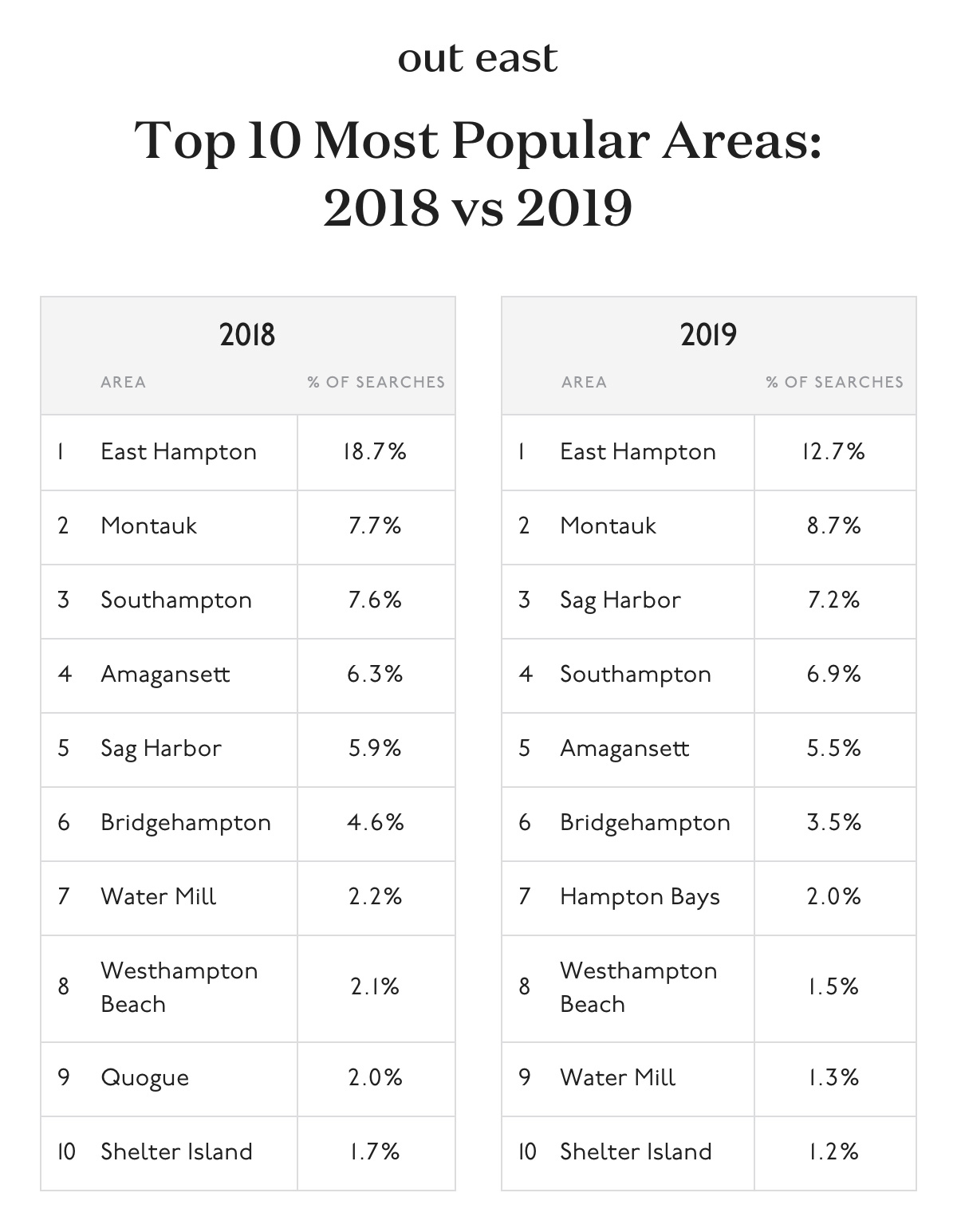 Sag Harbor Moves up in the Ranking
One hamlet catching the attention of many this year is Sag Harbor, which jumped from the fifth place on our list last year to the third for 2019. The village only spans 2.3 square miles, but it's full of fascinating history, delightful restaurants and adorable local shops along Main Street. While it's not the typical "South of the Highway" village nestled along the Atlantic, the bay beaches nearby are so beloved that it's easy to see why visitors are attracted by the idea of using Sag Harbor as their summertime home base.
Currently, there are more than 650 full-summer rentals available in Sag Harbor, with a median price of $65,000. This village is a boater's paradise, and is perfect for anyone looking to get the Hamptons experience while also enjoying a classic New England maritime atmosphere.
Hampton Bays Breaks Into the Top 10
Hampton Bays was a noteworthy addition to the 10 most popular hamlets for rentals this year. Last year, this historic fishing village located just west of the Shinnecock Canal didn't make our list, but this year, it popped up at number seven. Historically, the most sought-after towns for summer rentals have been further east, but more affordable prices and shorter commutes from New York City are drawing renters and buyers to towns like Hampton Bays.
With a median asking price of $45,000 for a full-summer rental, Hampton Bays offers prospective renters a discount of $30,000 off the Hamptons-wide median. Rentals are a bit harder to find, though. As of publication, there were just over 90 full-summer rentals available in Hampton Bays. But, hey, you may just find a gem like this 3-bedroom rental with a pool, asking $35,000 for the full summer.
Wherever renters choose to stay, the Hamptons is sure to be a popular destination for summer 2019. With Memorial Day just around the corner, summer visitors need to jump on their favorite spots soon — before it's too late.
—
For the best of the Hamptons and North Fork, follow us on Facebook and Instagram.