Duffers love nothing more than a good golf story, so here goes: In 1888, wealthy New York financier John Reid received a set of golf clubs from Scotland as a gift.  With no place to play nearby, Reid and a few of his fabulously-well-to-do pals built their own three-hole course in Yonkers.
Practically overnight, golf became the thing to do, and unbridled enthusiasm for the game spread to summer communities on the East End. Private clubs were formed, and some of the best golf courses in the country were constructed around the turn of the 19th century — including Shinnecock Hills Golf Club in 1891, the Maidstone Club in 1894, and National Golf Links of America in 1911.
But East End golf isn't all about fancy private clubs. Here's a guide to the best golf courses in the Hamptons.
Elite Private Golf Clubs in the Hamptons
The Hamptons' private clubs do reign supreme on Golf Digest's Top 100 Golf Courses for 2019, with four ranking in the top 40: Shinnecock (number 4), National (number 8), Friar's Head (number 15) and Sebonac Golf Club (number 39). An honorable mention goes to the Maidstone Club, which ranked at number 67.
Other private clubs have sprung up throughout the Hamptons, carved out of bluffs, ocean dunes and potato fields — tracks like Bridgehampton Golf Club, Westhampton Country Club, Quogue Field Club, South Fork Country Club in Amagansett, Noyac Golf Club in Sag Harbor and the Bridge Golf Club in Bridgehampton.
To join these, you'll usually need to get a member to sponsor you, get approval from the membership committee, and pay initiation fees to acquire shares in the club. Some of these clubs have initiation fees of $250,000 to $750,000; others have waiting lists up to 20 years long.
Non-Equity Private Golf Clubs in the Hamptons
If you're summering in the Hamptons and looking to get in a round before heading to the beach, you're not out of luck. Non-equity clubs present a more accessible option for the golfer who prefers a club setting over a public course, since you can pay the initiation fee and tee off on the same day.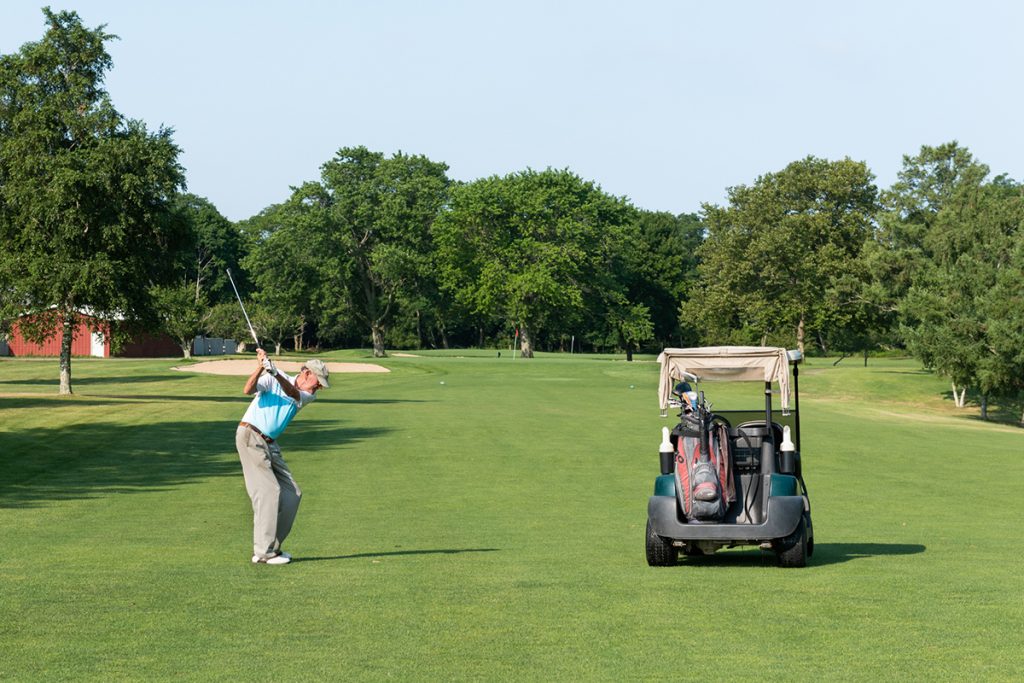 Baiting Hollow Club is a mature, Robert Trent Jones park course carved out of the bluffs overlooking the Long Island Sound in Baiting Hollow, with a spectacular clubhouse and catering facilities. Long Island National Golf Club is a 6901-yard, par-71 links-type course in Riverhead, just at the gateway to the North Fork. Hampton Hills Golf and Country Club is a park course nestled in the pine barrens of Westhampton Beach, just off County Road 31.  All three clubs are non-equity, and memberships are immediately available.
Public Golf Courses in the Hamptons
The East End also has some great public courses. Ranked in the top 50 of public courses by Golf Digest, Montauk Downs is a longtime favorite. Getting a tee time there may require perseverance, as may your round; weekends tend to be very crowded. But the price is right: a weekend tee time costs $41 for New York state residents and $82 for non residents; you can book online.
Other municipal golf courses in the area are Indian Island Golf Club (located in Riverhead and operated by Suffolk County) and the nine-hole Sag Harbor State Golf Course.
Public Golf Courses on the East End
Other nearby public course options include Cherry Creek Golf Links or The Woods at Cherry Creek — companion courses located across the street from one another in Riverhead. The Links boasts a 644-yard par-6 18th hole for a challenging finish. Tee times can be made online for both courses; discounts are available after 1 p.m.
Rock Hill Golf & Country Club in Manorville is another reasonable option for the golfer looking to get in a great round.  Weekend rates are $83 with cart; $53 after 3 p.m.
For the beginning golfer or casual duffer not looking to be overly taxed by a regulation PGA course, there's Poxabogue Golf Center, a nine-hole, par-30 course and driving range facility in Bridgehampton. Online tee times are available for both nine-hole and 18-hole rounds.
—
Inspired to find your next home on the East End? Search Out East for rental and sale properties in the Hamptons and North Fork.