There are numerous fireworks displays, as well as a carnival, a parade and lots of cocktail parties — in addition to all the usual Hamptons fun. Here are some of the best activities as well as a guide to Hamptons Fourth of July fireworks.
Fourth of July Fireworks in the Hamptons and North Fork
Westhampton Country Club will set off its annual fireworks display on Thursday, July 4, at 9 p.m. (rain date: July 5).  While the general public is not permitted on club grounds, the display is visible from numerous locations in the village. For more information, call (631) 288-1148.
"Stars over Montauk" is sponsored by the Montauk Chamber of Commerce and takes place 8 p.m. July 4 at Umbrella Beach, a third of a mile west of town. This Grucci fireworks show can be seen from any town beach or any location in town. For additional information, visit the Montauk Chamber website.
Fireworks will also go off over Orient Harbor on Saturday, July 6, at 9:15 p.m. This show can be seen from the harbor. Boaters are invited to raft-up in the harbor to watch the show. Additional information is on the Orient Fireworks website.
On Saturday, July 6, Devon Yacht Club on Abraham's Landing Road in Amagansett hosts a private fireworks show that anyone can see from Fresh Pond Beach. For additional information on the Devon website.
The Sag Harbor Yacht Club will sponsor fireworks on Saturday, July 6, at approximately 9:30 p.m. Anyone can see the show from Havens Beach, Marine Park, Long Wharf or from the harbor. For more information, call (631) 725-0567.
The "39th Annual Great Bonac Fireworks Show" will go off on Saturday, July 13, at 9:30 p.m. at Three Mile Harbor in East Hampton. Hosted by The Clamshell Foundation and Grucci, best viewing locations also include Maidstone Park, Sammy's Beach, Gann Road, Hands Creek Springy Banks Road. For additional information visit the Clamshell Foundation on Facebook.
On Saturday, July 13, 2019, Shelter Island hosts its 62nd annual fireworks show (rain date: July 14) at 9:15 PM. The Grucci fireworks show will wrap up a day of family fun at Crescent Beach on Shore Road in Shelter Island Heights. For additional information, visit Shelter Island fireworks online. 
Festivals and Parties with Fireworks
Start your weekend fun at the street and music festival "Alive on 25" on Thursday, July 3, from 5 p.m. to 9:30 p.m. on Main Street in Riverhead.  The event showcases live music, local craft beverages, downtown restaurants, artists and vendors, and wraps up with a fireworks show at Grangebel Park at 9:30 p.m. For additional information, visit Alive on 25.
The 68th Annual North Sea Fireman's Carnival will be held at 148 Noyac Road in North Sea from Tuesday, July 2, through Saturday, July 6. Open nightly from 7 p.m. to 11 p.m., the carnival will offer the usual assortment of rides, games, kiddie attractions and food. The highlight of the weekend's festivities will be fireworks shows, scheduled to go off Wednesday night, July 3, and Friday, July 5, at 10 p.m. For additional information call 631-283-3629. Greenport is also hosting its Fire Department Carnival at the polo grounds on Moore's Lane from July 2 through July 6, with fireworks on July 4 and July 6.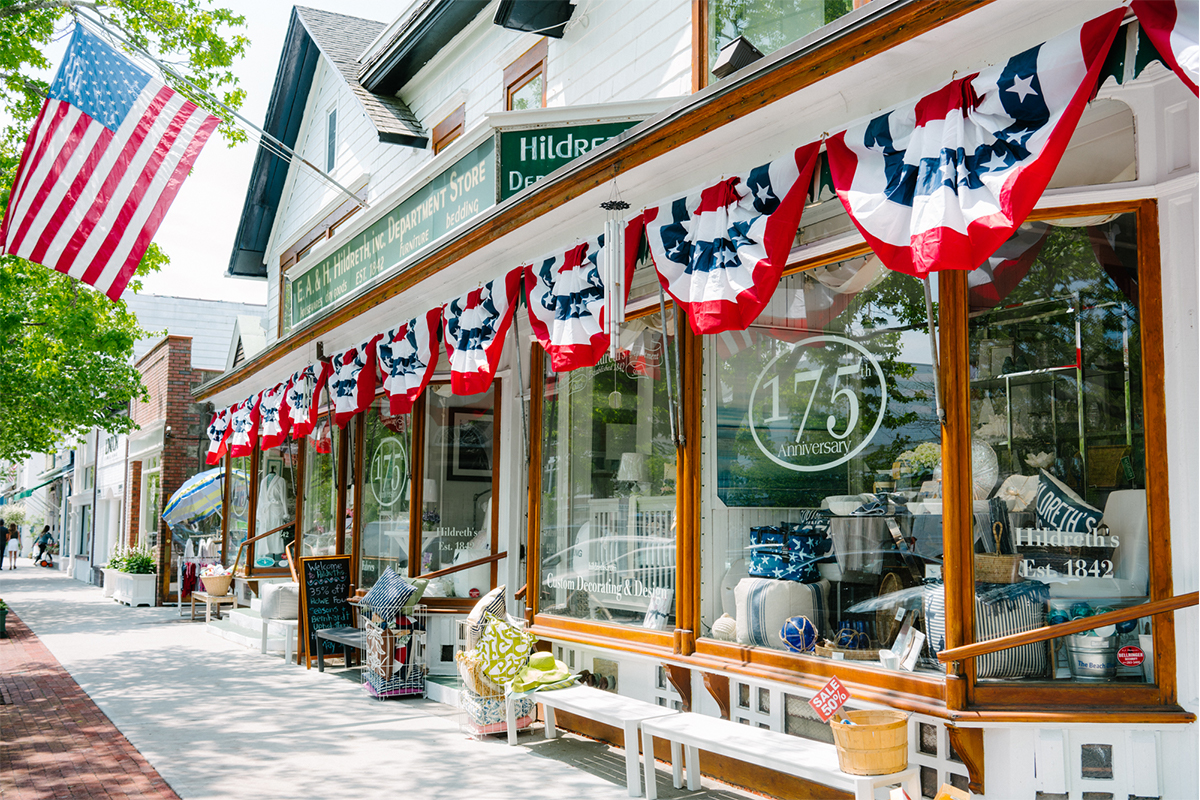 Main Street in Southampton.SoSouthampton Fresh Air Home's 32nd Annual American Picnic With Fireworks by Grucci kicks off the Hamptons fundraising events season at a gorgeous oceanfront estate located at 1030 Meadow Lane in Southampton on Friday, July 5, from 7 p.m. to 10 p.m. Tickets are $300 for adults and $150 for kids. The American Picnic includes food, games, stilt walkers, magicians, and food carts with ice cream and hot dogs. The Grucci fireworks spectacular is orchestrated to patriotic music and scheduled for 9:15 p.m. over Shinnecock Bay. For those who don't want to spring for a ticket to the event, the fireworks can be seen from other spots in the area with sightlines along the Shinnecock Bay.
Fourth of July Parades in the Hamptons and North Fork
The Hamptons' only Independence Day parade takes place in Southampton Village on July 4. The parade sets off from Railroad Plaza at 10 a.m. and rolls down North Main Street to Jobs Lane, ending at 1 p.m.  For additional information, visit the Southampton Village website.
The North Fork plays host to a number of Independence Day parades.  The Oysterponds Historical Society Heritage Day Celebration takes place on Sunday, June 30, with a parade starting on Village Lane in Orient at noon, followed by a reading of the Declaration of Independence and a family fair at Poquatuck Park.
The New Suffolk Civic Association parade leaves from the intersection of New Suffolk and Tuttle Roads at 11 a.m. on July 4, and the 22nd Annual Southold Village Merchants' Fourth of July Parade marches down Main Road from Boisseau Avenue to Tuckers Lane starting at noon.
Cocktail Parties and Galas in the Hamptons
Polo season kicks into gear around the Fourth of July with the Polo Match & Cocktail Party on Saturday, June 29, and Saturday, July 6, from 4 p.m. to 7 p.m. at 900 Lumber Lane in Bridgehampton. Hosted by Christie Brinkley, the party will offer guests access to an open bar and hors d'oeuvres while watching the polo matches. Tickets range from $175 to $360; only 500 tickets are available, so the events promise to sell out. For additional information and ticket purchase, visit Polo Hamptons.
Veuve Clicquot is hosting a champagne pool party at Topping Rose House in Bridgehampton on July 4 from 1 p.m. to 5 p.m. Enjoy music by DJ Rosé, dancing, food and plenty of champagne passed poolside. Tickets are $50 per person and include two glasses of champagne. Get your tickets on Eventbrite.
The East End's premier art expo, Market Art + Design (formerly Art Market Hamptons), takes place at the Bridgehampton Historical Society Museum from July 5 through July 7. Featuring 70 top galleries representing the best in modern and contemporary art and design, this year's fair benefits the Parrish Art Museum. The VIP Opening Night Preview Party will take place on Friday night, July 5, from 6 p.m. to 10 p.m. VIP tickets are $50 per person; general admission tickets are $25. For additional information and to purchase tickets, visit the Market Art + Design website.
Another signature fundraising event takes place on Saturday, July 6, from 6 p.m. to 8 p.m. This year's Halsey House Gala Benefit for the Southampton History Museum — "The Beach Ball" — takes place in the gardens of the Thomas Halsey Homestead at 249 South Main St., Southampton.  The event includes a full bar and hors d'oeuvres. Tickets range from $100 to $250 per person.  For ticket information, visit the website.
—
Inspired to find your next home on the East End? Search Out East for rental and sale properties in the Hamptons and North Fork.